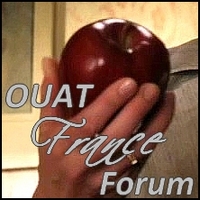 Twitter : @OUATFranceForum
Forum :
once-upon-a-time.forumdefans.com
OUATFanceForum is currently the first French forum about ©ABC 's TV show 'Once Upon a Time'. We are always trying to keep the news in an update state, and our French community is very active, friendly and funny. So please, don't be shy and come in Storybrook to discover our beautiful little town. All our habitants are impatient to meet you, and Rumple and Regina will welcome you as their very special guest!!
OUATFranceForum est actuellement le premier forum français consacré à la série télévisée d'ABC © « Once Upon a Time ». Nous essayons de garder les news à jour en permanence, et notre communauté française est active, sympathique et accueillante. Alors n'hésitez pas, ne soyez pas timide et venez nous rejoindre à Storybrook. Tous nos habitants sont impatients de vous rencontrer, et Rumple et Regina vous accueilleront avec grand plaisir!!